It's scary outside. Hundreds of thousands of people have died, many are forced to go to work without proper protective gear, and millions more no longer have a job. In that context, writing about our experiences at home seems naively trivial at best, and insensitive and out of touch at worst. Who cares about daily rituals when millions are suffering?
Yet, there is a part of me that believes these narratives will be essential in the future. A reminder of what life was like during quarantine was actually like when the world came to a brusque and unceremonious halt. I'm continuing with these posts, trying to find a balance of the guilt of being safe, the worry of my loved ones and those I don't know, and appreciation I've developed for the things we have been doing at home.
I am now on day 61 of quarantine. It has not been perfect, but I am grateful. I continue on a roller coaster of emotions. I've experience joy in being able to spend all day in sweat pants, indulging in happy hours with fresh baguettes that I made myself. I've relished looking out the window to catch the birds flying in for their afternoon snack. The handy 'backyard birds" guide lays next to my laptop so I can quickly distinguish between the American Tree Sparrows and Purple Finchs stopping by. We've mostly traded evenings on the couch, mindlessly re-watching gentile murder mysteries, for time at the dining table, eating complicated (aka more than 5 ingredient) meals and extreme board gaming.
Of course, the worry and guilt color all of these happy activities. I worry about my family, my friends, my Brooklyn neighbors situated right in front of a hospital and the refrigerated trucks, my city, and the other people I don't know personally. The pendulum often swings sharply between contentment and guilt, my privileged existence and the world outside. In the beginning these swings sent me into a rabbit hole of toxic thoughts and anxiety. Now I'm finding reassurance that my privilege has not made me complacent. As states begin to open up —waaaayy too early in my humble opinion- and we move into summer, I cannot begin to imagine what life after quarantine will look like. It will certainly come with more face masks, and cleaning rituals. But I wonder if in a year (or three), will life return to "normal?"– schedules too full for weekly zoom dates, sitting, exhausted, at the couch instead of the dining table, letting work take precedent over social anxiety. I suppose it's too soon to imagine. I'm just grateful that I've found meaning in some of the more trivial activities.
Cheers, A
---
Life Lately // April 2020
Currently Eating: Raam- a Kashmiri Lamb dish marinated for forty eight hours

Currently Baking: Baguettes
Currently Craving: Gabriel's Sage, Apple, and Pancetta Pizza

Currently Reading: What's the Matter with Kansas
Currently Recommending: Eli Shafak's The Forty Rules of Love

Currently Watching: Never Have I Ever

Currently Playing: Jaipur – The Card Game

Currently Beautifying with: hot water and minced ginger
Currently Podcastin' to: Samin Nostrat's Home Cooking
Currently Streaming: Victoria McGridley's Quarantine Playlist

Currently Sweating to: treadmill walks while talking to friends

Currently Traveling to/from: to the hot water boiler
---
About Life Lately
Welcome to my monthly "Life Lately" reflections, where I chronicle things did/ate/drink and liked. I've never been much for diaries (short attention span!), but I do really love looking back on these monthly lists. I hope you do too!
Other Posts from the Month:
Links to the other Life Lately posts // March 2020 // January & February 2020 // December 2019
---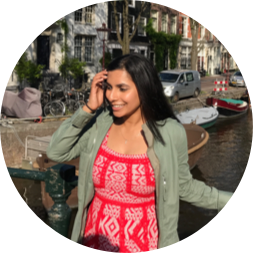 Aheli is the founder of Aheli Wanders, a blog she started in 2007. In addition to blogging (& dreaming about food), she is the Director of Product Management for tech startup. Aheli has traveled to over 37 different countries, and what feels like a million different restaurants. She lives in Brooklyn, NY with her husband. She hopes to add "and dog" to her bio one day.