Figuring out during a pandemic is a complex task. It can feel trivial, insensitive, borderline asinine to worry about what to watch when millions of people are suffering. Yet, there is something undeniably appealing about being able to escape into the memories of another time, where social distancing and disinfectant don't rule.
Interestingly, my family has only recently* retreated to the couch to indulge in some tele-visual distraction. Whereas pre-pandemic we used to spend most nights on the couch, we have opted to spend most evenings at our dining table indulging in culinary delights and board games.
Two weeks ago, we moved temporarily back to the couch to re-watch one of the most underrated comedies – My Cousin Vinny, and continued with an incredible binge-worthy session of Band of Brothers. We're still spending copious amounts of time eating and gaming, but throwing TV and Movies back into the rotation has been a welcome addition. I thought I'd share what we've been watching in case you're looking for inspiration. x Aheli
Comedy / Netflix
Suddenly broke, the formerly filthy-rich Rose family are forced to move to a ramshackle motel in a town they once bought as a joke: Schitt's Creek. The show follows the hilarious encounters of former Video Magnet Johnny (Eugene Levy), former soap opera star and wig aficionado, Moira (Catherine O'Hara) and their adult children, David (Eugene Levy) and Alexis (Annie Murphy). Seasons 1-5 are on Netflix.
Watch When: You need a mindless laugh and want to soften your "eat the rich" stance.
Comedy / Netflix
Kim's Convenience follows a Korean-Canadian family in Toronto. What's incredible is the show stays away from the seriousness that could plague a comedy about immigrants and family dynamics. The dialogue is sharp, well-written, and actually depicts well-rounded Asian characters. You laugh with the characters instead of at them.
Watch When: You need a feel good family sitcom, with a stunning Toronto backdrop.
---
Comedy / Netflix
This is a classic oddball comedy about a quirky group of students attending community college in Colorado. It's snarky and fast-paced, with a tender undercurrent. Each season is different. I'm only halfway through the second season, but it provides an excellent interlude between happy hour and sleep.
Watch When: You Need that Quirky Drama to fall asleep to.
---
Drama / HBO
Band of Brothers is a 2001 ten episode HBO mini that follows the men of "Easy Company" parachute Infantry Regiment, a part of the US Army's 101st Airbone Division, during World War II. The series starts with their training in Georgia in spring of 1942, follows them into France on D-Day and ends with the Allied victory in Europe in 1945. This is a visceral, intense look at the horrors of war—and the sacrifices of millions of ordinary people who served.
Watch When: You need a sobering, binge-worthy way to spend your weekend.
---
Drama / BBC America & Netflix
Killing Eve is the story of two women, bound by a mutual obsession and one brutal act: Eve, an MI6 operative, and Villanelle, the beautiful, psychopathic assassin that she has been tasked to find. Season three just released and I cannot wait to watch it unfold.
Watch When: Well-written, complex serial Killers feel more comforting
---
Drama / Netflix
Locke & Key follows the three Locke Siblings and their mother as they move into their ancestral home following their father's murder. The kids soon discover the home of magical keys that may have the answer to their father's untimely death. As they continue to explore the house, a vicious demon is unleased and attempts to seize the keys.
Watch When: You need an escape and bit of fantasy, without going full sci-fi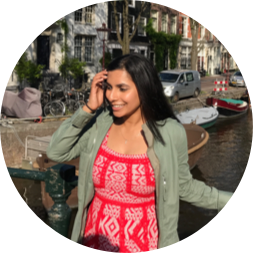 Aheli is the founder of Aheli Wanders, a blog she started in 2007. In addition to blogging (& dreaming about food), she is the Director of Product Management for tech startup. Aheli has traveled to over 37 different countries, and what feels like a million different restaurants. She lives in Brooklyn, NY with her husband. She hopes to add "and dog" to her bio one day.