I've seen spaghetti squash recipes floating around Internet, but have usually been too intimidated to try them. Then, I found a helpful Kitchn article and Inspired Taste video that break down exactly how to bake the spaghetti squash and the right technique to "fork out" — I'm sure this is the technical term– the squash into spaghetti-like pieces. It is seriously easy. It's a good thing too, because I was finally able to make a recipe that has been haunting my Pinterest board for years: Creamy Whole30* Bacon Garlic Spaghetti Squash.
I am not exaggerating when I say that this was the easiest and most delicious recipe I've tried to date. There are only 8 ingredients, including salt, pepper and olive oil. The longest part is cooking the squash. But once that's done, you can throw together the sauce in under 20 minutes. The result is a creamy casserole that is both delicious and lactose-free (a HUGE win for me). I may or may not have eaten 3/4 of the dish in one sitting.   I'll try to do a step by step break down of the best techniques for cutting the squash up at a later date, but I wanted to share this as soon as possible. I hope you enjoy. – Aheli
"Creamy" Bacon, Broccoli and Spaghetti Squash Casserole"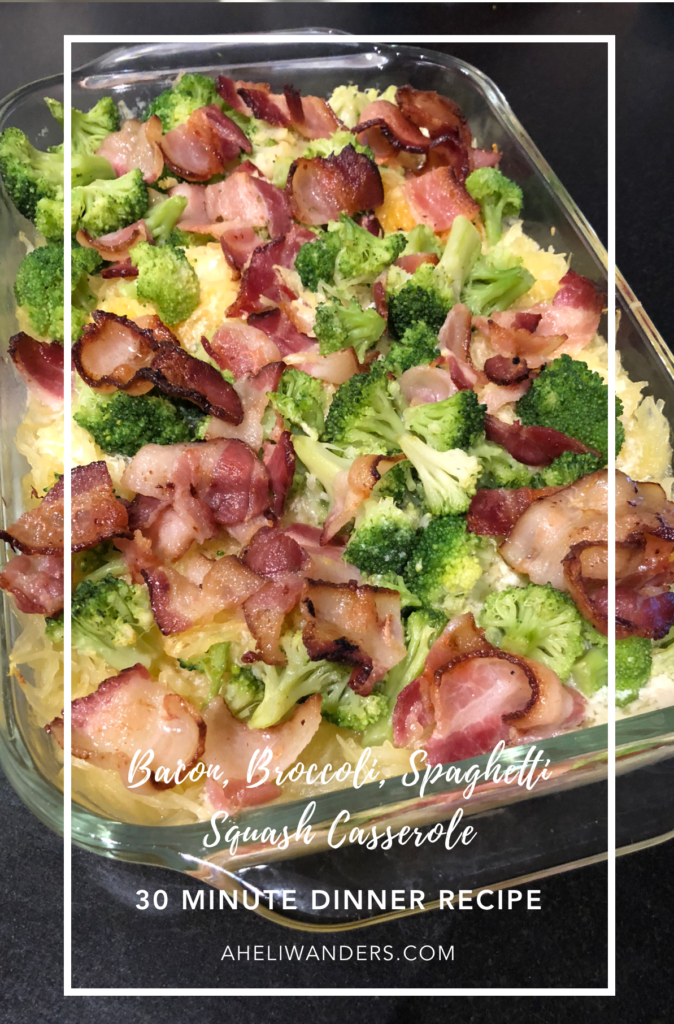 Total Time
Prep: 15 minutes
Inactive: 20 Minutes to 1 Hour
Difficulty: Easy
Ingredients: 
3-4 cups cooked Spaghetti squash
Olive Oil, Salt and Pepper
8 pieces cooked and chopped bacon
1 1/2 steamed broccoli
Sauce
1 Cup Full Fat Coconut Milk
1 Medium egg
1 teaspoon sea salt
1 teaspoon garlic powder
Fresh ground pepper
Tools:
Carbon steel or cast iron pan
Sauce Pan to steam broccoli and make sauce
3 side bowls
Oven Mitts
Baking Tray
Parchment Paper
Tongs
Large wooden spoon
Plate and Paper Towel
Casserole dish
Steps:
Cut spaghetti squash in half.
Drizzle olive oil on both sides of the squash and season with salt + pepper.
Place squash cut-side down on parchment paper and bake at 375 degree F until soft. This should take about 40-60 minutes depending on your oven.
While cooking the squash, steam broccoli in sauce pan until soft.  Once done, set broccoli aside.
Once squash is done, take a fork and "scrap" all the insides into a casserole dish.
Cut bacon into 1.5 inch strips and cook. Set aside once done.
Whisk all the "sauce" ingredients in a saucepan. Heat sauce for about 5-8 minutes.
Add steamed broccoli, bacon and sauce to casserole dish. Be sure to evenly distribute sauce over the spaghetti squash.
Heat in oven until warm.
*Don't be turned off by the "Whole30" name. I'm not Whole 30, or Paleo or Gluten-free, but I like Whole30 recipes for their lactose-free recipes ideas.
Recipe Card:
Creamy Bacon Garlic Spaghetti Squash Casserole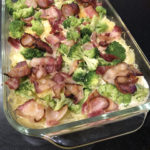 This creamy bacon garlic spaghetti squash casserole is easy and DELICIOUS. Get ready for the perfect cold weather comfort food with a healthy(ish) twist.
Casserole
3-4 cups spaghetti squash
8 pieces bacon
1.5 cups broccoli (fresh or frozen)
Sauce
1 cup full fat coconut milk
1 egg (medium)
1 tsp sea salt (to taste)
1 tsp garlic power
1 tsp ground pepper (to taste)
Cut Spaghetti Squash in Half

Place squash cut-side-down on parchment paper and bake at 375 degree F until soft.

While squash is cooking, steam broccoli on the stove for about 10 minutes. Once done, set aside.

Take fork and scrape all the insides into a casserole dish.

Cut Bacon stripes into small 1.5 inch pieces.

Whisk all sauce ingredients in sauce pan. Heat sauce for 5-8 minutes on medium heat.

Add steamed broccoli, bacon and sauce to casserole dish. Pour evenly over the casserole.

Place in the oven until warm.
SaveSaveSaveSaveSaveSave
SaveSave