One of my favorite dishes growing up was a Burmese dish called panthé kaukswê, pronounced "cow-sway." I'm not sure when I first tasted the ginger-y, garlic-y, coconut-based curry-noodle soup, but it is my number one requested meal for "special occasions. The concept is simple, marinate a chicken, or in our case Cornish game hens, in coconut milk and heap on the puréed garlic, ginger and onion. Serve with noodles, and a heaps of different toppings: onions, scallions, chickpea flour, garlic-chili oil. I personally like to load up on extra green scallions and a drizzle, okay a full-on pour, of chili-garlic oil.
There is something wonderful and simple, and universally appealing about a dish, where each person gets to customize it to their own preferences. We had it when I graduated high school, for numerous "birthday" celebrations, and when I first introduced G to my parents.
The dish itself originates in Myanmar, but takes on in many forms throughout Southeast and Southwest Asia. (Some say it is the progenitor of Thailand's beloved Khao Soi). This particular recipe is an adaption on an adaption from Charmaine Solomon's "The Complete Asian Cookbook." I hope you enjoy this simple, 45 minute recipe.
*According to the "Economist Style Book," the adjectival form is "Burmese" and no Myanmarese.
---
Panthé Kaukswe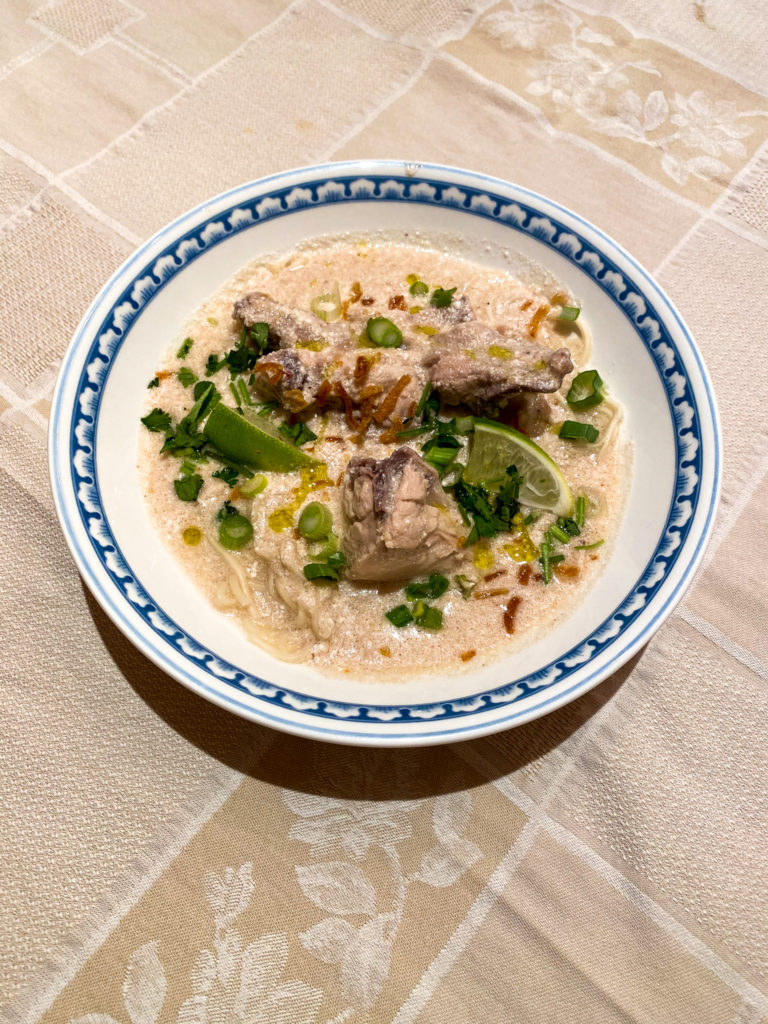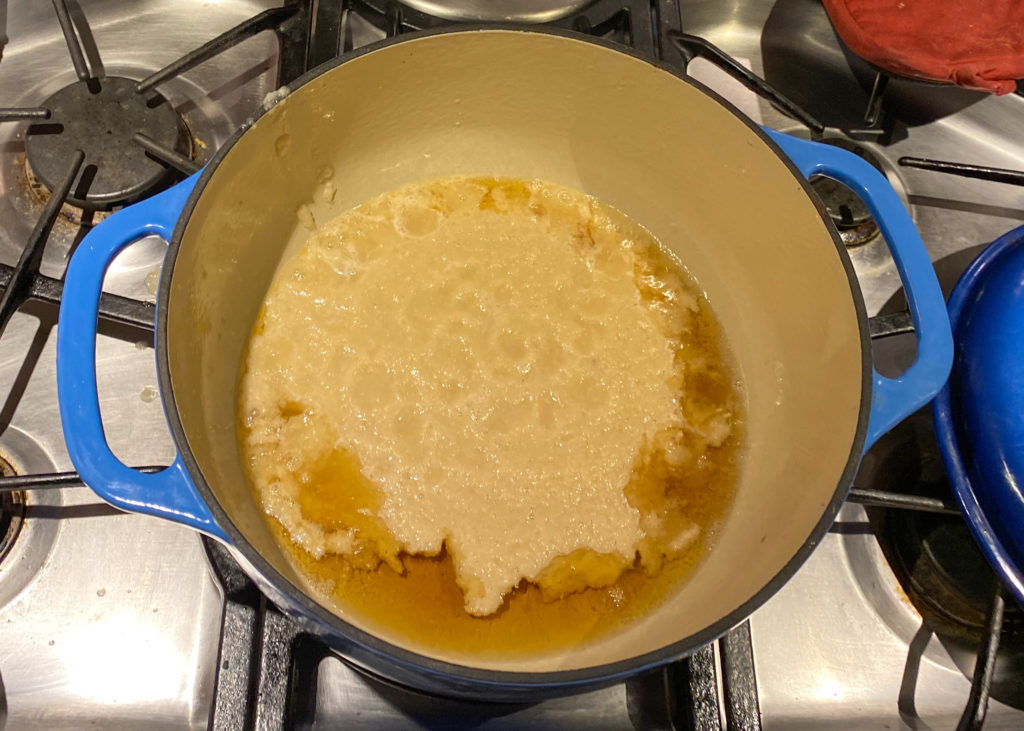 Panthé Kaukswé
This Burmese simple coconut chicken curry is made with easy-to-find ingredients.
Kaukswé Ingredients
2 Cornish Game Hens (or 6 lbs chicken)
1 large white onion
1/4 cup garlic paste (or 10 cloves)
1/4 cup ginger paste
1 tbsp fish sauce (or dried shrimp paste)
2 tbsp sesame oil (can also use: avocado or peanut oil)
1-2 tsp chilli powder or flakes
2 tsp kosher salt
4 cans coconut milk (at least 2 full fat coconut milk)
2 tbsp besan (chickpea flour)
500 g thin egg noodles
Toppings
2 stalks green onion (scallions) (finely chopped)
1/4 cup red onion (finely chopped)
1/4 cup besan (chickpea flour)
1/4 cup garlic oil
2 tbsp chili flakes
4 medium limes
1/4 cup coriander
Cut cornish game hen or chicken into serving pieces.

Put garlic, onion, ginger and 1 tbsp fish sauce into blender until smooth. Add 1 tbsp of sesame oil if necessary.

Heat 2 tbsp sesame oil in Dutch Oven on medium-high.

Add the blended ingredients, stirring for 5 minutes.

Add chicken and continue to fry, stirring constantly.

Add 1-2 tbsp chilli powder, salt and coconut milk.

Stir until chicken is tender, adding hot water if mixture becomes too dry.

Mix 2 tbsp besan (chickpea flour) and a tbsp of cold water to curry.

Reduce to low, cover pan with lid and cook for another 10-15 minutes.

Just before serving, cook noodles in a large saucepan of boiling salted water until just tender (6 – 8 minutes).

Serve noodles in a large bowl with curry ladled on top. Each person can add the appropriate toppings.