Hands down my absolute favorite Bengali dish is Channa Dal. The subtle, warm flavors of the chili powder-cinnamon spice mix combined with the sweet crunch of the coconuts and the thick Dal is just heavenly. Last October for Durga Puja, my mom made an epic feast of Channa Dal, Lao, Begun Bhaja (fried eggplant), Portol, and Koraishutir Kachuri. And for the first time, she supervised me making the Channa Dal. Of course, I had to document and share the recipe.
What is Channa dal?
Channa dal, or Bengal gram or split chickpeas, are dried brown chickpeas that have been split and skinned. They have a sweet and slightly nutty taste. Channa dal is high in fiber and is a rich source of protein; making it a great option for people who are on a low carb or diabetic-friendly diet. That said, I would not call this a "healthy" meal given the amount of ghee involved to make it EXTRA yummy.
Side note: India has many, many, many different types of regional cooking, and as a result there are many different versions of Channa dal. For me, this is a Bengali Channa dal (made without tomatoes, garlic and onion).
How to Serve It?
I can seriously eat this alone, but you can serve it with some basmati rice or rotes and naan.
The Spices
The key to getting this right is using fresh spices and whole spices when appropriate.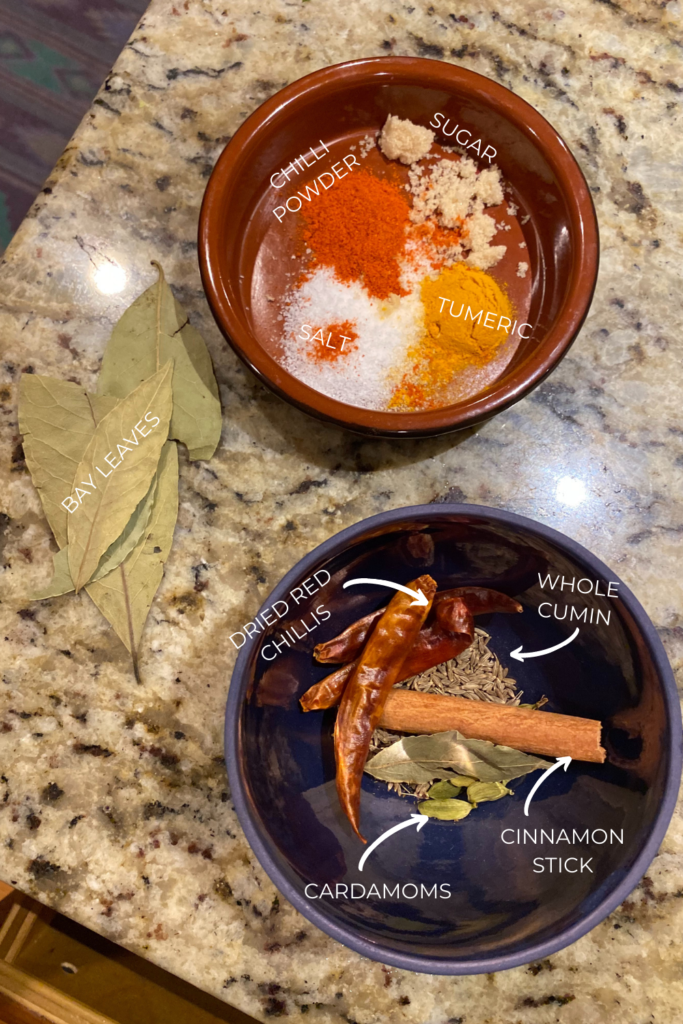 Cooking
Whether you use an instant, saucepan or even dutch oven, this is a highly adaptable recipe. The key is to first cook the dal in water. And then cook the ghee, spice and coconut/raisin mixture separately and then combine.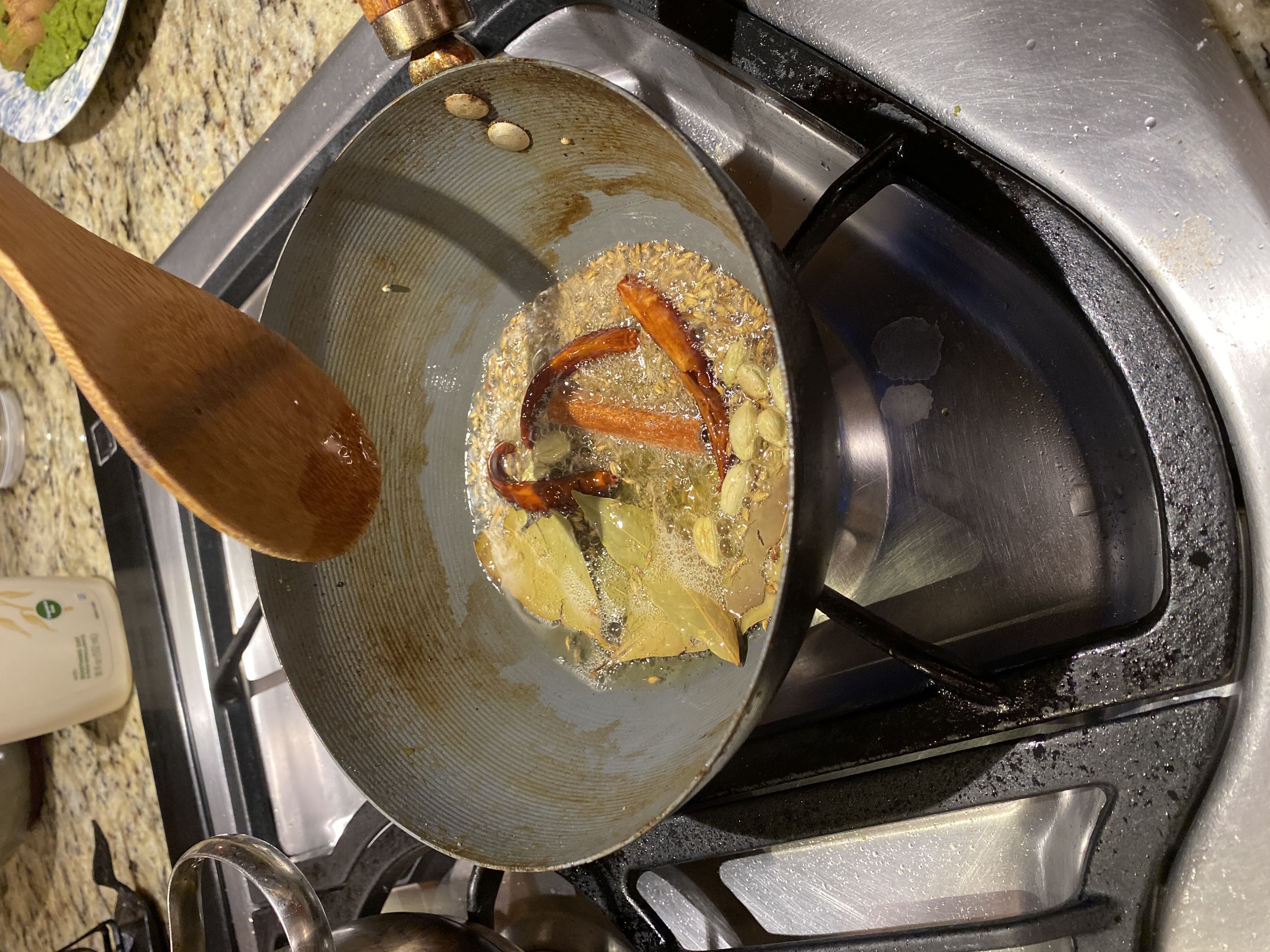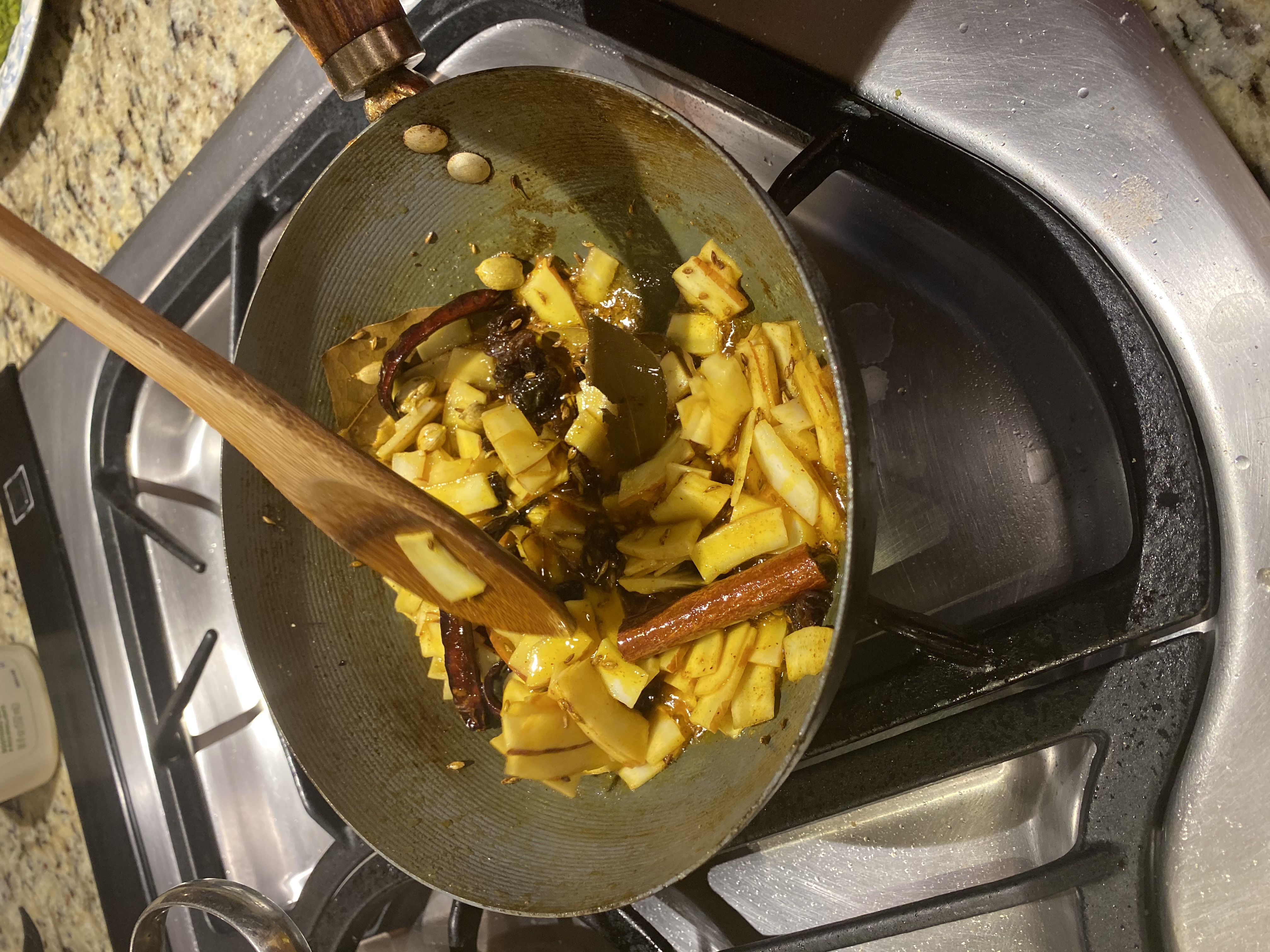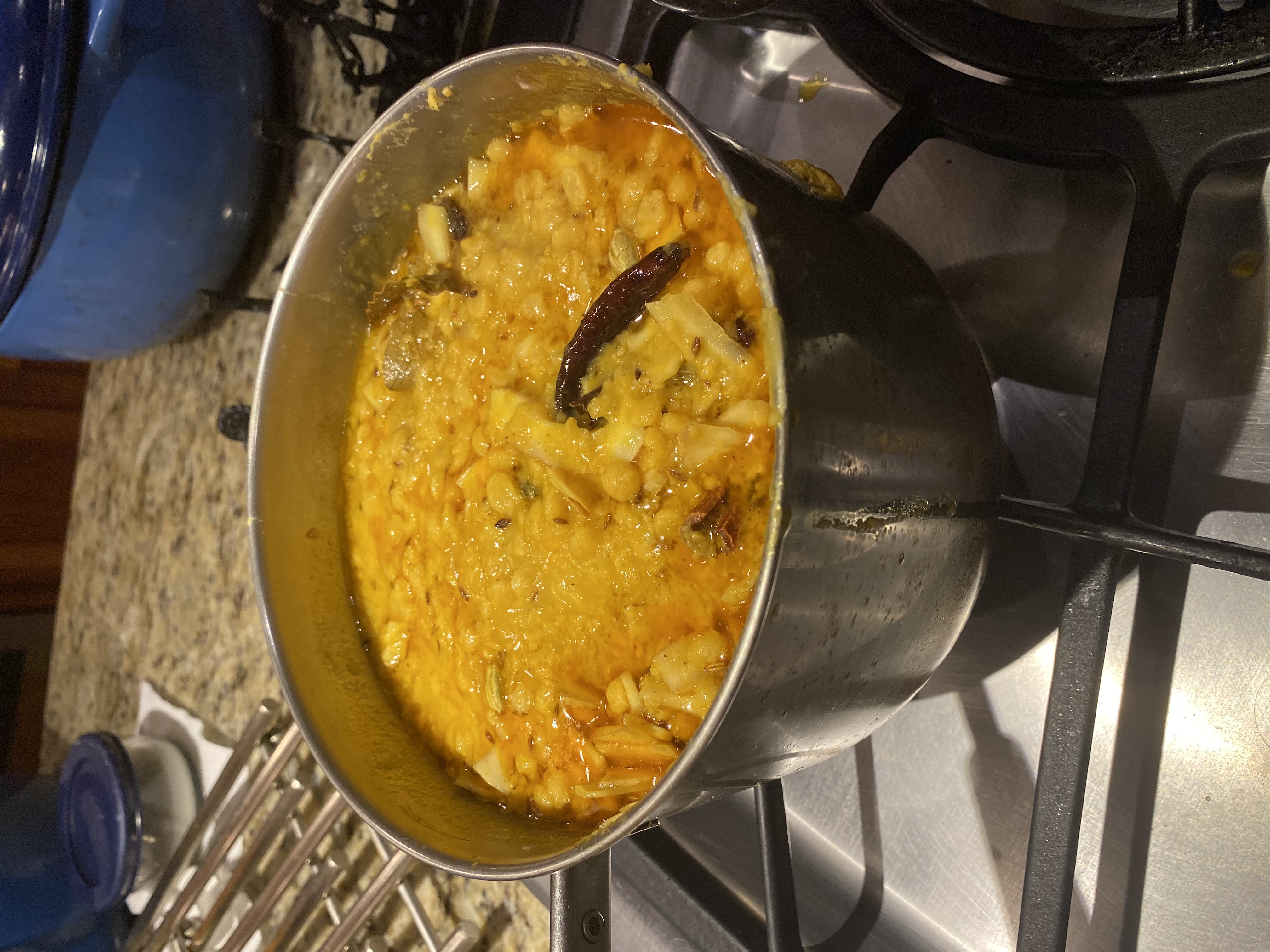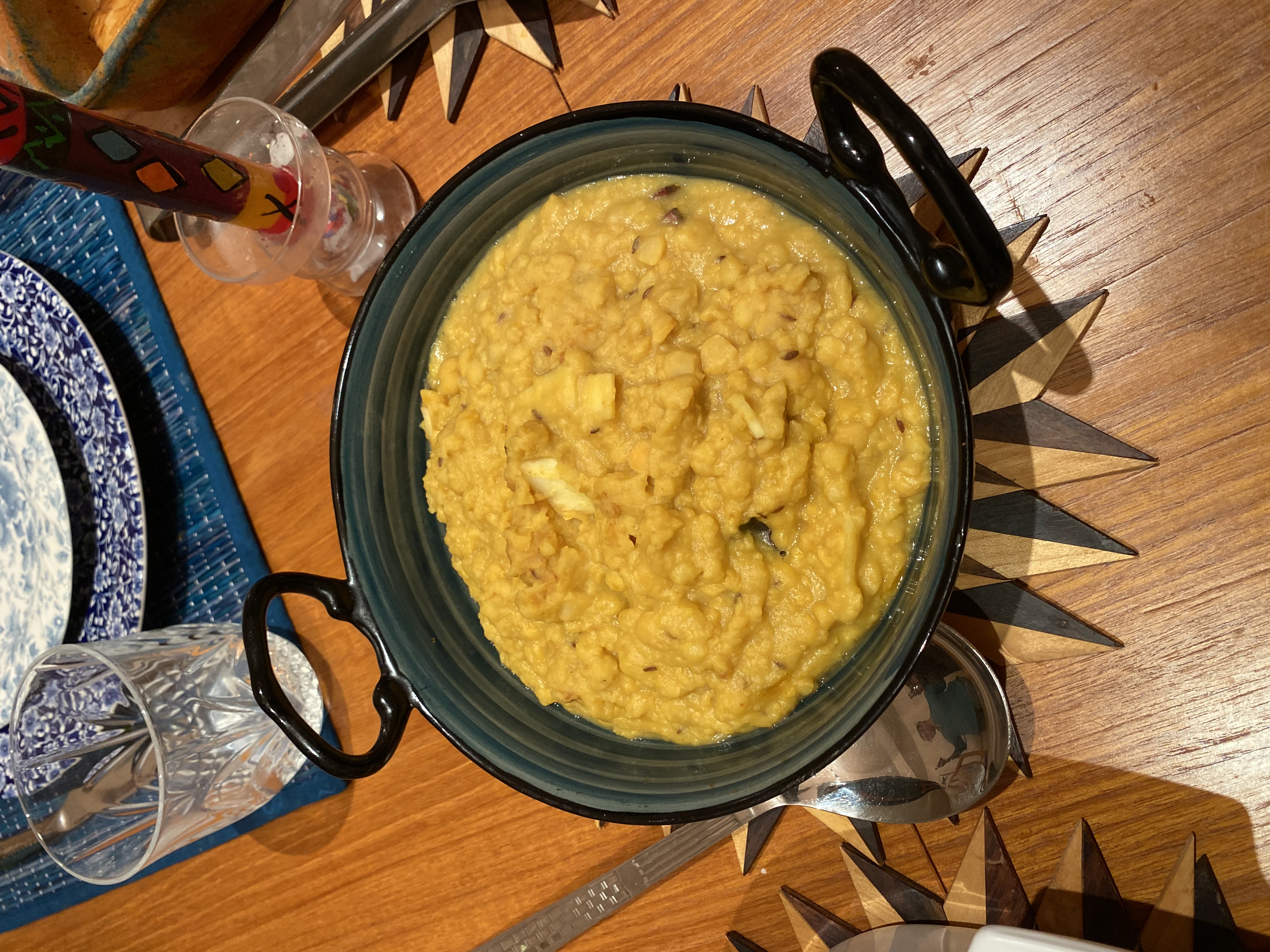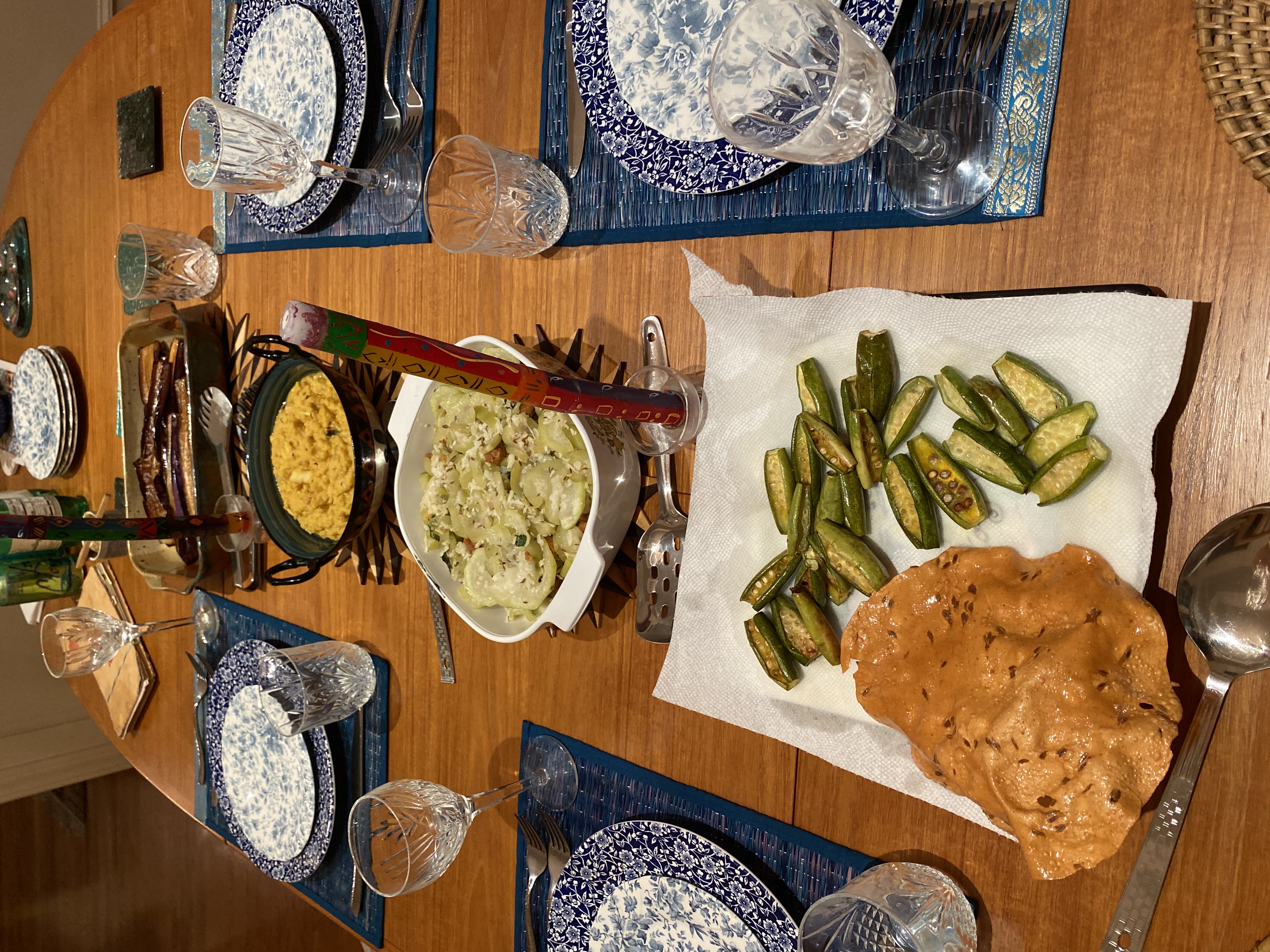 Interested in Learning More about Indian Cooking?
One goal fo the pandemic is to actually pick up more Indian cooking skills. I've been mostly relying on Priya Krishna's Indian-ish, which is a great repository for Indian recipes created by a second generation Indian-American (and her parents), and utilizes a lot of American grocery store ingredients. I also love YouTube, particularly Bong Eats for their incredible breakdown of Bengali specific recipes. I'm hoping to share more adapted recipes in the future, but there are much better experts out there.
Easiest Channa Dal Recipe
This simple Dal recipe will warm the hearts of even the most picky eater.
Instant Pot or Medium Saucepan – to cook Dal
Medium Saucepan to cook spices
Knife
Scale or Measuring Spoons
wooden spoon
200 g channa dal (washed)
6 1/4 cups water
1 1/2 tbsp ghee
3/4 tsp whole cumin seeds
2 bay leaves
2 dried red chillis
2 cinnamon (about 2 inches long)
4 cardamom pods (whole)
3/4 tsp chilli powder
1 1/4 tsp ground cumin
1 tsp salt
1 tsp sugar
2 tbsp coconut (silvered)
1 tbsp raisins
Wash dal thoroughly

If using the Instant Pot: Place the 200 g of daal and 6 1/4 cups water in Instapot. Use Instapot Manual Setting (or pressure cook mode at high) for 12 minutes. Let the pressure release naturally.

If using a SAUCE PAN: Bring 200 g of daal and 6 1/4 cups water to boil in large saucepan over medium high heat.

Lower heat, partially cover the pan and simmer about 1 hour and 15 minutes until the dal is soft.

Heat ghee in a small pan over medium heat.

Add whole cumin seeds, bay leaves, red chillis, cinnamon and whole cardamons and let them sizzle for a few seconds. Be careful not to let them burn.

Add the turmeric, chilli powder, ground cumin, salt, sugar and stir fry for 1 minute.

Add the coconut and raisins and fry for another 1-2 minutes.

Pour ghee and spice mixture with the dal and stir.

Server with Rice or Lucchi/Naan.
---