Wahoo! It's the last Life Lately for 2020.
December was… well tough*. I lost my last Dadu (grandfather/great-uncle) to Covid-19. Choto Kaku Dadu was the epitome of gentle grace with a loving heart and talent for story telling. . Though usually quiet, if you sat with him, usually on the enclosed terrace of his apartment looking over a misty golf course, he could entertain you for HOURS with incredible tales and stories from his life.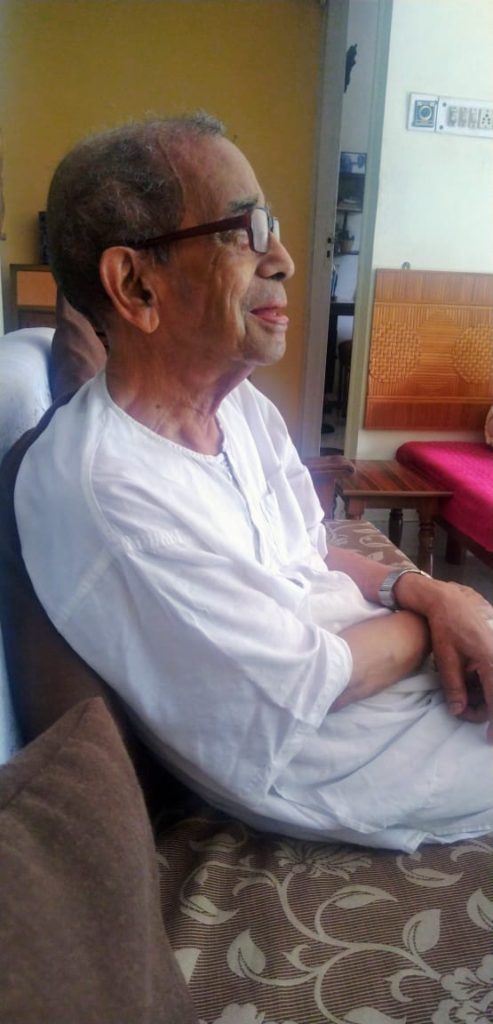 The most iconic story being about the time their garden in Dehra Dun was being over run by monkeys. It became so burdensome that Choto Kaku Dadu needed to find a way to teach "the hairy beasts" a lesson. While on a trip to England, he found a solution — a small airgun. This, he thought, would teach the monkeys a lesson they would never forget. His first morning back in India, opportunity struck when the gang of monkeys returned to the garden. Carefully and quietly, Choto Kaku Dadu picked up the air gun and snuck outside. Propping the air gun on his shoulder, he squinted his eye, focused on the target and BOOM…missed by a mile. Enraged, the monkeys turned on Choto Kaku Dadu, forcing him to retreat, quickly, into the safety of the enclosed garage. It was there he had to wait for hours until the monkeys allowed him safe passage back to the main house. Needless to say he never messed with monkeys or airguns after that.
Our family misses him and his wit greatly.
A Short Reflection on 2020
Usually at the end of the year, I like to quantify my achievements and general life successes. However, this year the "achievements" seem different.
I said goodbye (permanently?) to pants with buttons and took a way too deep dive into baked goods (hence the no pants with buttons). I slowed down, found happiness in the simplicity of bird watching, and developed exactly zero new hobbies. I have broken some personal records in naps. I discovered the outdoors (mostly because being indoors was driving us bonkers). I acquired a newfound sense of anxiety (thanks 'rona), which has led to a 30 day Mindfulness & Meditation course taken over 94 days.
But on a serious note, perhaps one of the things I'm most grateful for is my wonderful husband. This was a very different first year of marriage than anticipated. Whether we are creating our own personal Kushikatsu (串カツ) tour of Osaka, or just sitting on the couch, mindlessly scrolling the Internet, every day feels like an exciting adventure with you.
My only goal for 2021 is to appreciate the small victories and moments when they arrive.
I hope you all have a safe and calming 2021.
Love,
Aheli
*Some nice thing did happen in December, but I'll save that for another post.
---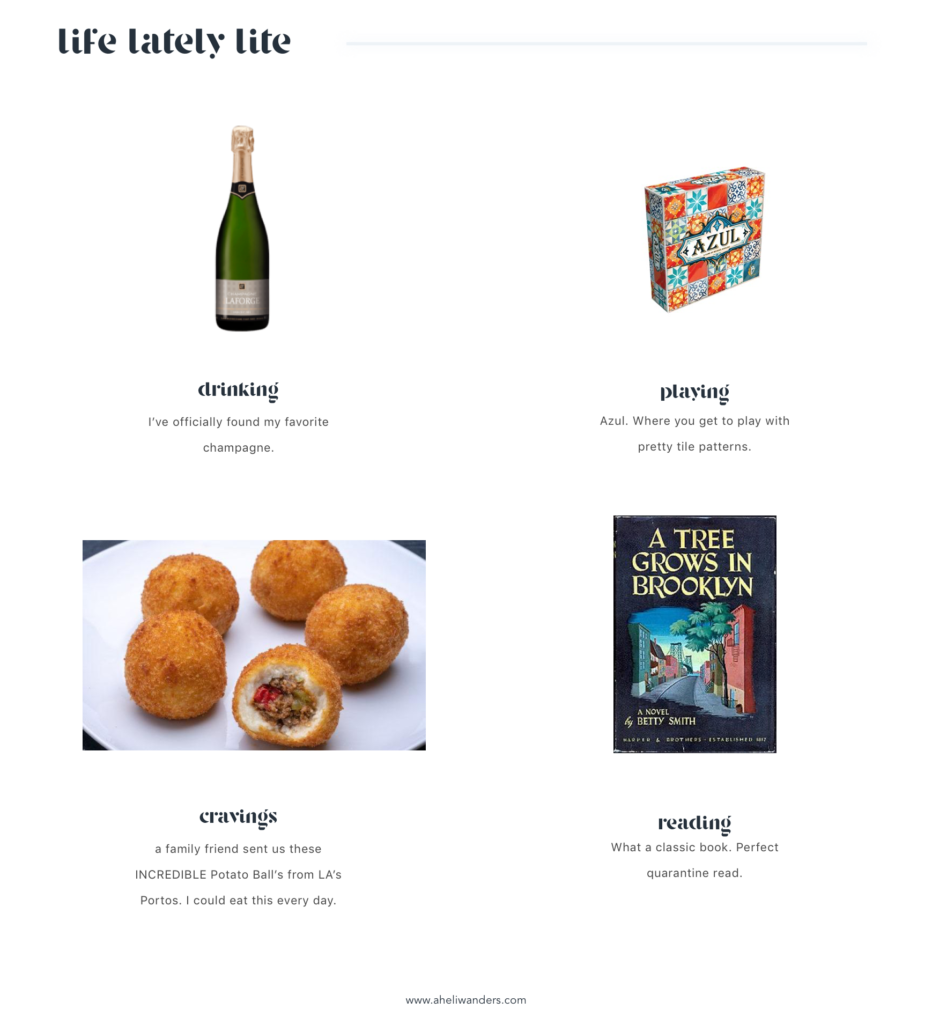 Life Lately // December 2020
Currently Eating: Dad's Chopped Salad

Currently Drinking: Champagne Laforge Grande Cuvee
Currently Craving: Porto's Potato Balls

Currently Reading: Shuggie Bain by Douglas Staurt
Currently Recommending: The Talented Miss Farwell by Emily Gray Tedrowe | A Tree Grows in Brooklyn by Betty Smith

Currently Watching: IT Crowd Reruns. Have you tried turning it on/off again.

Currently Playing: Azul

Currently Beautifying with: Tata Harper's Resurfacing Mask
Currently Podcastin' to: NPR's News Now
Currently Streaming: Calm's How to Meditate — Day 29!!!

Currently Sweating to: Reno

Currently Traveling to/from: Lowe's
---
About Life Lately
Welcome to my monthly "Life Lately" reflections, where I chronicle things did/ate/drink and liked. I've never been much for diaries (short attention span!), but I do really love looking back on these monthly lists. I hope you do too!
Links to the other Life Lately posts // November 2020 // April 2020 // March 2020 // January & February 2020 // December 2019