Hello!
Well November just flew by.
First, it would be remiss of me to not start with "a VERY HAPPY BIRTHDAY MONTH" to the one and only STEPH! I cannot wait to social distance celebrate with you!
Wow, what a month November has been. Biden WON! Kamala Harris is now the first black and South Asian woman Vice President! Can we all take a collective sigh of relief that we are slowly returning to common decency? It won't be perfect and the Biden/Harris administration should be pushed on important issues, like Climate Change and Eliminating Student Debt. But man, does it feel good to have someone who believes and trusts in SCIENCE and Education!!!
I was incredibly honored to tag along to the EK Women interview with my mom Dr. Bandana Purkayastha, hosted by Monika Patel. Though I often brag about my mom's many, many, MANY accomplishments, it was truly incredible to hear, in her own words, the story of her journey to the US and start her career from scratch to becoming an award wining professor and mentor. The key take away is that while my mom is extremely talented, her success has been dependent on her network of friends, family, co-workers and mentors. She truly embodies the lead by example role model style, where she continues to make sure that everyone moves ahead. I have watched her mentor countless grad students, add them to publications, do endless introductions and of course, make sure that at least 15 of them are over for our famous Thanksgiving. It's these moments, where I get to take a moment to appreciate the true impact of my mom's career on those around her, that are just incredible. I can't wait to hear the final podcast (out in 2021).
We also got to celebrate my mom's birthday together this year! Since we are no longer eating out due to the rise in Covid cases, my dad, G and I decided to throw her a full afternoon tea. On the menu: Japanese Egg Sandwiches, Smoked Salmon, Scallion and Cream Cheese Sandwiches, Fresh Scones with clotted cream and our new obsession: Linzer tart cookies. Seriously, G and I have made three batches of jam filled shortbread cookies.
They, of course, made an appearance at our much smaller Thanksgiving celebration. Though we didn't have the usual 25 person dinner, we still repeated the tradition a full Biriyani meal (with Raita and Lao) and my dad's 24 hour brined Turkey, Potatoes Au Gratin and stuffing. G and I even took a stab at making bread rolls, which, if I might add, were perfection.
With all this eating and baking, I'm truly thankful to have discovered an app called AllTrails, which collects different hikes, bike rides or trail runs. Beside the obvious thrill of getting to be safely outdoors, we've been able to explore parts of a town, that my parents have lived in for 15 years, that we wouldn't have been able to otherwise. So far we've found a hidden reservoir run and a trail with relics from the 1700 settlers.
A little less fun, was finding the last remaining Native American 4 acre reservation during one of our explorations. It is uncomfortable (but necessary) to reconcile that the majority of Americans are living on stolen land. It's not lost on me that celebrating (or not) Thanksgiving in a pandemic is ironic given its a holiday in honor of someone entering someone else's home and intentionally spreading a deadly disease….
The month ended with an incredible 10 year Virtual Reunion with my Master's family. We had originally planned to return to Edinburgh in honor of our reunion, however getting to spend 3 hours with 16 classmates who are now spread out across New Zealand, Moscow, Germany, Ireland, Norway and the US was still fun. I can't wait for the time when we can actually be together. I'm truly grateful for the friendships formed during my time in Edinburgh. One of the few monthly Zoom calls that I look forward to are with a group of my former classmates. While we spend a lot of time nerding it up, it's been a constant source of fun and lightness during this time. Getting to then see the whole group was just magic.
Phew, I think that is the highlights for the month. I've opted to try to keep up with this series, mostly because it's fun way for me to look back at the important events in my life. Crossing my fingers I can repeat in December.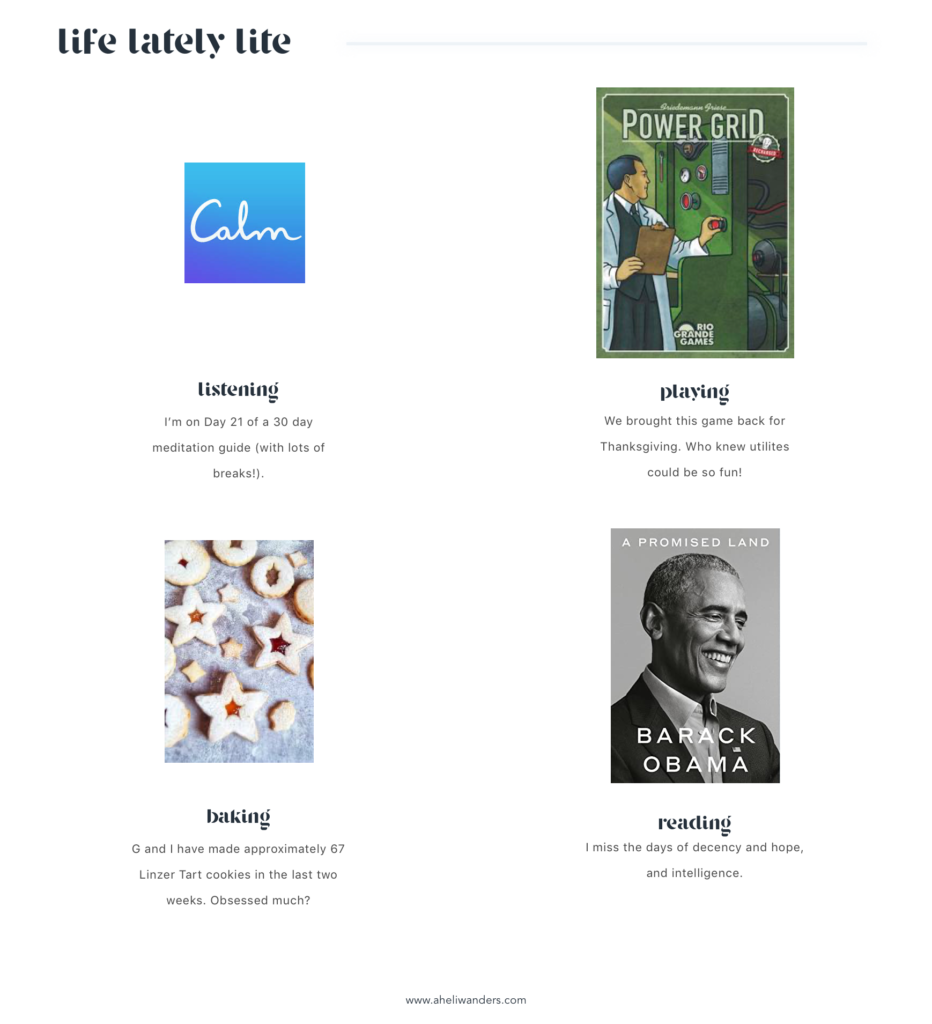 ---
Life Lately // November 2020
Currently Eating: Madhu Chocolates, thanks to my wonderfully thoughtful friend- Stormie!

Currently Baking: Linzer Tarts
Currently Craving: the Sunday Sandwich from Amy's Place

Currently Reading: A Promised Land by Barack Obama
Currently Recommending: Seven Husbands of Evelyn Hugo

Currently Watching: The Queen's Gambit on Netflix

Currently Playing: Powergrid

Currently Beautifying with: Water
Currently Podcastin' to: Bigger Pocket's Podcast
Currently Streaming: Calm's How to Meditate

Currently Sweating to: Walks to the Kitchen

Currently Traveling to/from: Local Walks with the Alltrails App
---
About Life Lately
Welcome to my monthly "Life Lately" reflections, where I chronicle things did/ate/drink and liked. I've never been much for diaries (short attention span!), but I do really love looking back on these monthly lists. I hope you do too!
Other Posts from the Month:
In October we celebrated Durga Puja, and reflected a lot about the state of the world.
What it felt like to cast my first vote for a woman of color
If you're new to the blog, check up an updated FAQ with me: Aheli
Links to the other Life Lately posts // April 2020 // March 2020 // January & February 2020 // December 2019
---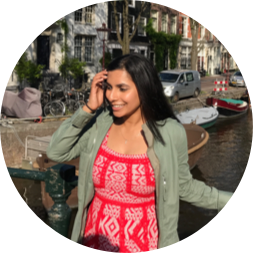 Aheli is the founder of Aheli Wanders, a blog she started in 2007. In addition to blogging (& dreaming about food), she is the Director of Product Management for tech startup. Aheli has traveled to over 37 different countries, and what feels like a million different restaurants. She lives in Brooklyn, NY with her husband. She hopes to add "and dog" to her bio one day.