Greetings from Quarantine Day 31-ish*. That's right, it's been a month of physical distancing, video conferencing, toilet paper hunting and a wonderful blend of pure anxiety and denial. Life has certainly changed- there are some good elements (weekly zoom dates with my cousins across 15 cities and four countries for one) and terrible elements (the world is a dumpster fire). 
I'm going to be honest. It's been next to impossible to write this post. I feel a constant, overwhelming feeling of guilt- that I'm not on the frontlines helping in hospitals, that I'm safe at home with my family, that I have a good enough internet connection to easily Zoom with my other friends, that I have a job and a paycheck. I tend to glaze over the more difficult things in life, because usually those things pass. Yet, in this case, the pandemic will end, but the impact will be felt for years. It's been hard to reconcile. In an effort to be more gentle with myself, I'm trying to keep moving – riding out those productive moments and also turning my phone off with necessary.
G and I finished our self-imposed two-week quarantine in Brooklyn (following our Japanese honeymoon), packed three large suitcases and headed up to Massachusetts to be with my parents in a super practical Mustang convertible. At the time, I worried that G and I were overreacting. Some forward-thinking friends were already social distancing, but it felt like so many individuals were going on with their day to day lives. Now that uncertainty feels inconceivable given every conversation- social or otherwise- is about the Coronavirus.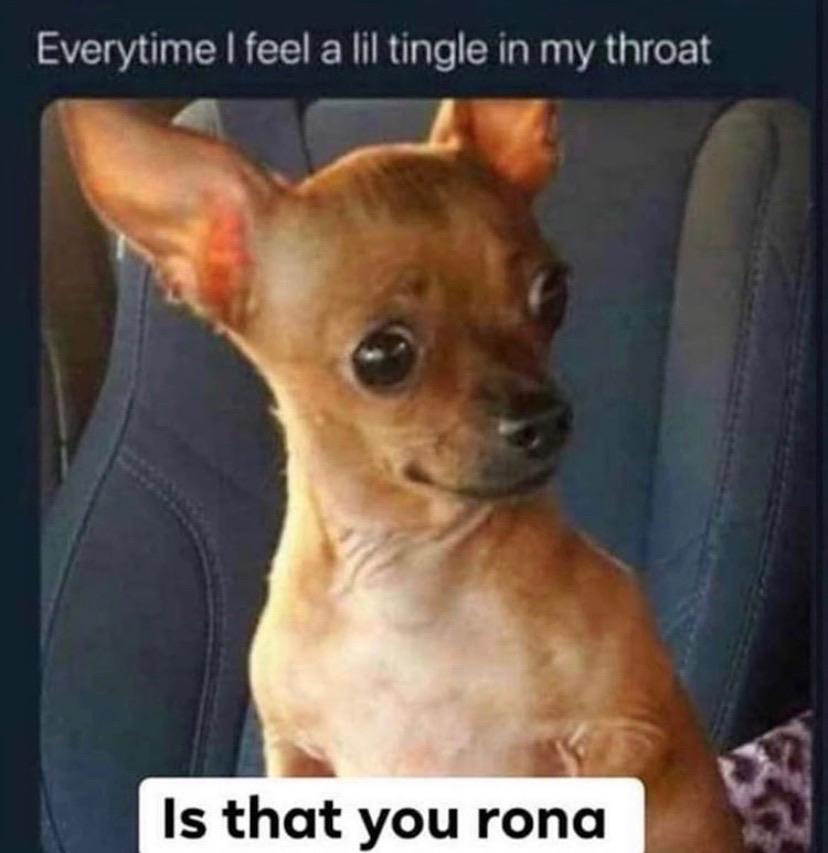 My new reality is relating far too much to the "Is it you rona?" meme that's making the social media rounds (Thanks, E for the share). Every tickle in my throat or allergy-induced sneeze brings out all my hypochondriac tendencies. I can't joke about this without reminding you that if you do, in fact, think you the 'Rona. Call your doctor first. Even if you have a fever or severe symptoms. You'll risk spreading or catching the disease, or worse, could put other people at risk. 
On a lighter note, I want to acknowledge some of the more positive moments of the month. I did have a wonderful weekend with my best friend Steph in Brooklyn (at the very beginning of the month, and with copious amounts of hand sanitizer). Zoom video calls are my new hangouts. I'm managed to have weekly calls with my cousins, my favorite Brooklyn ladies, and my "Politics Nerds" group. These calls give me light, especially when we're exchanging "what is the most evil thing you've done this week" stories. I also really appreciate the time I've gotten with my parents and my husband. We've created a beautiful routine. We have our separate workspaces (so SO lucky) but come together for meals. We take walks outside in our isolated neighborhood and attempt to play badminton in the backyard. We've gotten to play in the snow, and then immediately soak in the afternoon sunlight on the deck. I can definitely appreciate these moments.
Big hugs. Stay safe, and of course, keep washing those hands.  <3 Aheli
*I'm going to be honest we had an imperfect quarantine in Brooklyn. We stayed in about 95% of the time, but did have an evening outside the first Saturday of Quarantine. We practically bathed in hand sanitizer, but I still feel guilty looking back.

Life Lately: March 2020
Currently Eating: Mangshoo – A Bengali Goat Dish

Currently Baking: Earl Grey & Yogurt Tea Cake
Currently Craving: All the sashimi

Currently Reading: Open Book By Jessica Simpson and Sapiens: A Brief History of Humankind by Yuval Noah Harari (Because #balance)
Currently Recommending: Eleanor Oliphant is Completely Fine by Gail Honeyman

Currently Watching: 僕だけがいない街 | Erased- " The Town Without Me" and Little Fires Everywhere 

Currently Playing: Jaipur – The Card Game

Currently Beautifying with: Augustinus Bader- The Cream

Currently Sweating to: P90X with G

Currently Traveling to/from: my home to my home
About Life Lately
Welcome to my monthly "Life Lately" reflections, where I chronicle things did/ate/drink and liked. I've never been much for diaries (short attention span!), but I do really love looking back on these monthly lists. I hope you do too!
Other Posts from the Month:
Links to the other Life Lately posts // January & February 2020 //  December 2019