Cartagena is one of the most picturesque and vibrant cities I've ever visited. Back in February 2015, G+I decided to escape cold and snowy New York and celebrate his big 3-0 in a warmer local. While researching, we agreed that we wanted a place that was:
Less than 10 hours from New York City
Not a typical tourist destination
Had a mix of history/culture and beaches for relaxation
Relatively affordable
Enter: Cartagena.
This beautiful walled city is located in the northern coast of Colombia. Cartagena is filled with lush flowers, cobblestones and colorful stucco 16th century buildings. Everywhere you look there is a pop of color: on hats, on trucks, in alley ways. You will truly feel like you've stepped into a Gabriel Garcia Marquez novel as you wander around the vibrant streets.   Cartagena has all the benefits of a big city— museums, historic buildings, world class food— with the laid back vibe you'd expect from any beach adjacent town. I loved my trip so much, I I thought I'd jot down some of my recommendations on where to stay, what to eat and do. I hope you enjoy. – A
---
Overview: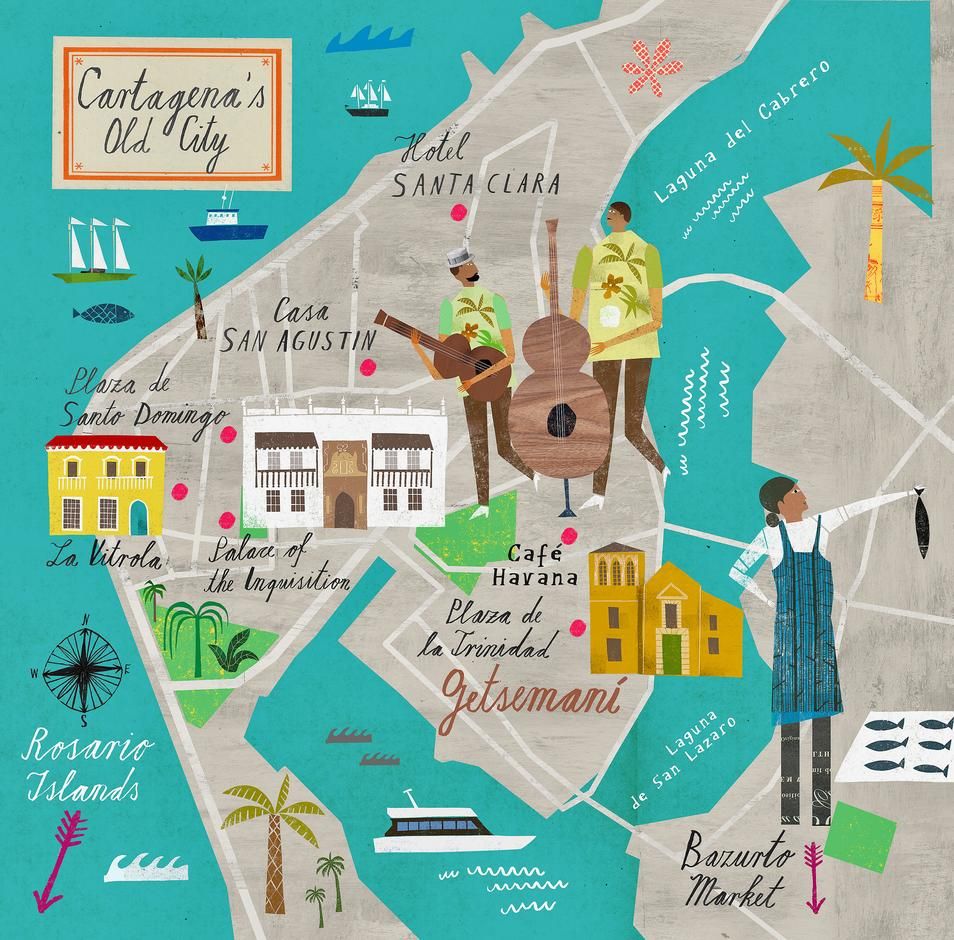 Getting To:
Cartagena is a quick four and half hour direct flight from New York City. As of 2018, JetBlue and Avianca have been running very reasonable roundtrip fares, from $200-$600.
Getting Around:
Once you land, grab a 30 minute cab ride to the Old City. Don't stress if you don't have time to exchange or take-out Colombian pesos. Cabs will accept American dollars. Once your in the walled city, you can easily walk from place to place.
Where to Stay:
Cartagena has an extensive range of hotels, airbnbs and home-stays. We opted for this Airbnb, which had an incredible balcony. I'd personally recommend staying somewhere in Old City near the Plaza de Santo Domingo. It's close to all the tourist attractions and restaurants, yet you can still find quiet streets that make you feel like you actually live in Cartagena.
Where to Eat:
This is my favorite restaurant in Cartagena. For G's birthday, I knew I wanted to do something special and food-related. Thanks for several blog and Tripadvisor recommendations, I found Carmen. Located in the ground floor of the Anandá Hotel Boutique, Carmen blends together a fusion of Asian, Californian and Colombia ingredients and techniques. The food, the service, the atmosphere all make for the perfect night of celebration. As soon as we walked through the incrediblely large Moorish doors and onto the elevator patio in the middle of an old Spanish Colonial style hacienda, I knew I had made the right choice.
Eat When:
You're celebrating something big- friend reunions, anniversaries and of course, major milestone birthdays. Just leave the kids, puppies, and snapchats at home.
Need to Know:
Reserve ahead and book a table in the courtyard for a magical experience
Try the tasting menu
Get a bottle of wine (or try the wine pairing) as their wine cellar is incredible.
When we told a friend we were visiting Cartagena, he immediately told us to book a table at Don Juan. This Basque-influenced restaurant is so famous, even the president of Colombia comes here. Despite the jet-set crowd, the atmosphere is FUN- pastel green and pink strips adorn the walls, the chairs and even the waiter's shirts.
Eat When:
You want a trendy casual date or friend night AND have amazing food. Yeah- it's that versatile.
Need to Know:
For entrees, I highly recommend the Pargo a la Sarten (red snapper with shrimp) or the Chuletón de cerdero (lamb).
Don Juan is extremely popular, so definitely book a table in advance.
If you can't get a table, try the sister restaurant Maria, next door.
Prices are similar to New York  ($80 USD to two people, including the vino)
We found this place while exploring this city. It is such a perfect hidden gem. This tiny eight seater restaurant specializes in seafood. We tried three dishes- ceviche, sopa caribe and the ajie. The ceviche was one of the best from our whole trip.
Eat When:
You've wandered around for five hours and need to eat something before you pass out.
Need to Know:
Try to ceviche
No reservations required
Bring a google translator as this is an authentic (read: Spanish speaking only) restaurant.
---
What to Do:
Full disclosure: G+ I made no activity-based plans before coming to Cartagena. We just walked around until we found some interesting spots.
Catch the sunset at Cafe de Mar
This is very obviously a tourist trap – ahem the drink prices are priced in USD- however, there is a certain magic to grabbing a mojito and watching the enormous Colombian flag wave while street performers serenade you.
Best for: Cheesy tourist moments that are almost worth it. Selfie Sticks are definitely permitted.
Visit Playa Blanca on the Isla Bura
As I mentioned before Cartagena is located on the northern coast, but tourists need to travel by boat to access the gorgeous warm warm. There are two options- stay a couple nights in the Old City and then move to a resort. Or you can take a day tour to some of the local beaches. G+I opted for the later.
We woke up at 8:30 Am and rushed to the Plaza Santo Domingo to catch the morning boats heading out. Boats leave Cartagena around 9:00Am and return around 3:30PM depending on the weather.
You don't actually dock so people swim out to pull the boat back nearish the shore. For some reason they did not let me help pull the boat ashore. I will say that I had the absolute worst experience returning to Cartagena. We hit a small storm on the ride back and hit 12 foot waves in very close succession. I thought our tiny 15 foot boot was going to die, as I watched grown men around me vomit and start crying. We did survive (obvs) and G has regained feeling in his left arm.
Best for: You like the sun and the sand, but also wear SPF 175.
Wander
Honestly, this is the best thing that you can do in Cartagena.
Best for: People who read this blog. Wander and eat, then repeat.
SaveSaveSaveSaveSaveSave
SaveSave